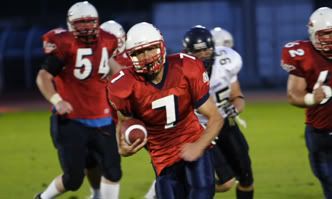 This news is anyone's worst nightmare. Bernd Dittrich, just 21 years old, died Wednesday after losing consciousness while swimming laps at the pool the previous night. It's been called a
tragic accident
:
"It is with great sadness that Simon Fraser University and SFU Athletics share the news of the passing today of football player

Bernd Dittrich

.

"Dittrich, a quarterback for the SFU Clan football team, died in hospital Wednesday morning. Cause of death has yet to be determined. He was taken to hospital Tuesday evening after losing consciousness in a swimming pool on SFU's Burnaby campus.

"He was 21 years old. He is survived by his family in Austria.

"Originally from Vienna, Austria, Dittrich moved to Heavener, Oklahoma, at the age of 17 for his senior year of high school, and played both quarterback and linebacker for the Heavener Wolves.

"Growing up in Vienna, Dittrich fell in love with the sport of American Football, and played for the Vienna Vikings club team, where he was coached by current SFU offensive coordinator Shawn Olson for five years. Olson recruited Dittrich to play for Simon Fraser, and the mobile pivot joined the Clan football team in August of 2007 alongside his fellow Vienna Viking teammate Daniel Stanzel.

" 'Our hearts go out to Bernd's family,' said SFU's Senior Director of Athletics, Dr. David Murphy. 'The SFU athletics community has lost an exceptional young man. Bernd was not only a great athlete on the field, but also an inspiring individual in all aspects of life. We will miss him tremendously.'

"While the third-year Bachelor of Science student played a minor role with the team during his first season, Dittrich was named starting quarterback of the Clan in 2008.

In his first career start, he led SFU to their first victory in over three years, a 24-10 win over UBC. Following the victory, an emotional Dittrich fought back tears while describing how much the win meant to his teammates and coaching staff." --

press release



The official cause of death has not been released. It's not being treated as suspicious. Please spare a thought for the people who were close to Bernd. They can use the strength.
The
Vancouver Sun
is
accepting condolences
.
Howard Tsumura
at
The Province
has a must-read
post up
, including a story about Bernd from September 2008.
One beauty of doing this site, along with writing about high school athletes in my day job, is getting to give a window into the lives of people whose lives are just beginning. Bernd's life was just beginning, making this horribly sad.
Related:
SFU quarterback identified as drowning victim
(CTV British Columbia)