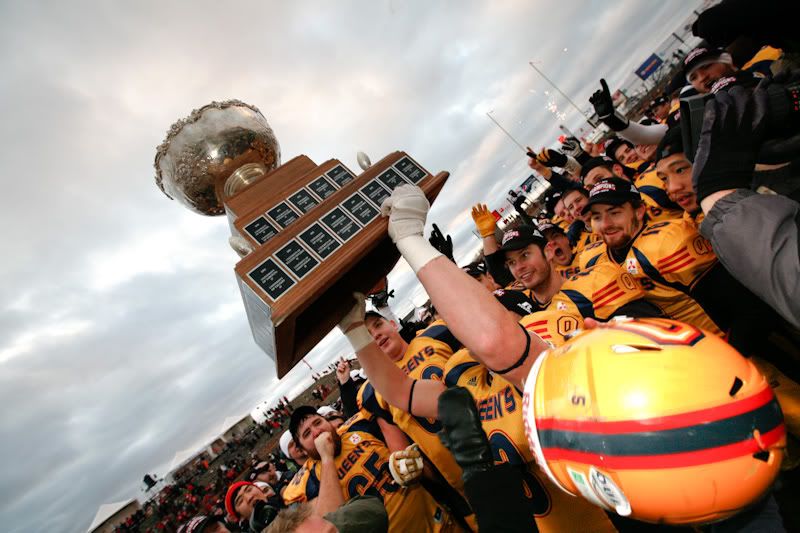 Christmas came four weeks early. No Queen's football team has ever sealed the deal like these guys.
A team should not keep winning close ones week after week, but the Queen's Golden Gaels did it this fall. On Saturday, quarterback
Dan Brannagan
, the darting
Marty Gordon
, D-line dynamos
Shomari Williams
and
Osie Ukwuoma
and of course,
Jim-my All-in!
finished the job in the same fantastic manner they did all season. They ran off 26 consecutive points in the second half, including two fourth-quarter touchdown drives going against a stiff wind,
to beat the Calgary Dinos 33-31 for the Vanier Cup
.
It was friggin' storybook, all in front of 18,360 fans at Université Laval who, even if they begrudged Queen's knocking out their beloveds the week before, had to admit the Big Yellow Guys could play. The reaction just kept unfurling from the time Queen's went ahead for good to just after the final gun, when anyone standing on the field suddenly heard this roar and massive thudding of feet as several hundred students and the band stormed the field.
It's been true for most of the past 20 years: the Golden Gaels are the magnet and I am steel. Following them explains me like cheering for
the TCU Horned Frogs
explains
Dan Jenkins
.
Queen's football is a part of sport whose story is often untold or only treated superficially in Canada. People seldom fully understand how driven most CIS athletes are. They think the only driven athletes are in the pros. University athletes in Canada care as much and work as hard as the most gifted and talented sportspeople. They also embody that quality of only being tough in the face of a tough job. This is true of many teams, but I found the Gaels first.
It's hard to imagine a tougher job than the one
Pat Sheahan
's charges ended up facing. All Brannagan and the boys had to do was, in the space of three Saturdays, take out three teams whose quarterback was a finalist for the Hec Crighton Trophy. Two weeks ago, they beat
Michael Faulds
and the Western Mustangs by four points in the Yates Cup. Next they upset Laval and
Benoit Groulx
by three in the semifinal and then, finally, beat Calgary and
Erik Glavic
by two on Saturday. (Four-three-two-No. 1.)
It seems so straightforward ... now. It was come-in-off-the-ledge by times, especially Saturday. Queen's, every coach and player, might have never betrayed a moment of self-doubt when they were winning all those close games (six wins this season by four points or less). When you're a spectator, stuck with going on the stats and probabilities, you start to worry. Besides, there were the demons of the past two seasons, when the Gaels were ill-fated to become the OUA's most successful also-rans. Both seasons they put up solid regular seasons and lost at home in the first playoff game. They (OK, me) could point to their .627 overall winning percentage since 2001 knowing full well the inevitable retort,

what about championships?

Queen's had not raised a conference championship trophy since 1992, also the last year they won the Vanier Cup.

Thanks to the previous two weeks, that void was long gone by Saturday. Still, Calgary shot out to a 25-7 lead by virtue of playing the entire second quarter in Queen's zone. It seemed like a good chance that the magic had worn off. The crowd, 18,360 strong despite the notable absence of the hometown Rouge et Or, seemed to have adopted Calgary, and the breaks were going against Queen's (an 87-yard kickoff return by

Jim-my All-in

was brought back by a penalty, for instance). For pity's sake, Brannagan's best play in that second frame might have come when he dragged down Calgary's 320-pound bullhunkus

Linden Gaydosh

as he rumbled downfield with the ball after intercepting a tipped pass. No team had ever come back to win in a Vanier Cup after trailing by more than 15 points through 30 minutes.

Well, there had to be a first time. Brannagan arced a 60-yard touchdown pass to

Devan Sheahan

just 1:08 into the third quarter to put Queen's back in business, and for the most part it all flowed like water across smooth rocks.

It didn't come all at once; Calgary is too big and fast for that, even if it had a harder time keeping its composure than Frank The Tank in

Old School

. The Dinos, God love 'em, started to make tiny mistakes. Their kick returner slipped down fielding a kickoff to pin his team deep inside its own 15-yard line. They fumbled deep in their own territory (but Queen's could only get a field goal.) Calgary burned its last timeout barely five minutes into the second half. Two scoring opportunities went sliding down the river in the third, first a blocked 17-yard field goal try and then an end-zone interception by Glavic, who tried to challenge the wind and Queen's safety

Matt Vickers

and lost on each count.

Pat Sheahan, throughout the stretch drive, has left nothing to chance. Against Western in October, he called a timeout with 90 seconds left and coach

Greg Marshall

's Mustangs trying to use up as much time as possible before scoring the winning points. Western's

Nathan Riva

went over for a go-ahead TD on the next play and Brannagan had time to author an 84-yard victory drive for a 27-26 win, hitting

Blaise Morrison

for the decider with 13 seconds left. In the Western and Laval playoff games, they were able to get in range for

Dan Village

to kick field goals on the last play of the first half, which loomed large in those tight games.

This is probably too much attention to give to a minor coaching move. Regardless, when Sheahan used a timeout so Calgary would have to punt into the wind at the end of the third quarter (instead of getting to punt with it at their kicker's back to start the fourth), then it became clear Queen's would find a way to win.

Sure enough, they used the short field for a quick, 51-yard drive, with Brannagan getting away from the hot hot heat of Calgary's

Geoff Paiement

to throw a 17-yard TD to fifth-year senior

Scott Valberg

, one of the Kingston-born Gaels who is just old enough to remember the 1992 Vanier Cup game. Now up 26-25, Ukwuoma sacked Glavic after Calgary had driven to midfield and Brannagan went right back to work: Five plays and 74 yards later,

Marty Gordon

slashed off right tackle

Derek Morris

' flank (a grad of one Kingston-area high school, La Salle, running behind one from another, Napanee) and a great seal from left guard

Vince De Civita

for a 15-yard TD and an eight-point lead with eight minutes left. Then you could start to sense it.

Remarkably, after completing just 11-of-26 passes despite having the wind in two of the first three quarters, Brannagan ended up 6-of-7 going against it in the fourth (including two long gainers to

Blaise Morrison

and

Chris Ioannides

which set up Gordon's TD, plus Valberg's sideline catch with two minutes to play which helped ice the game). That stat really serves to indicate how these Gaels bucked the odds. No wonder Pat Sheahan felt so sure about all those third-down calls.

There was more. There is always more. Calgary did get a touchdown and missed a game-tying two-point convert attempt and Queen's defence came up with a fumble recovery with 3:01 remaining before it ran out the clock. Even as the clock wound to less than two minutes with Calgary unable to stop it and Gordon grinding out a vital first down, there was still an is-this-happening vibe, until the final gun.

So, yeah, it was worth catching a 2:30 a.m. bus from Ottawa and getting to Ste-Foy, Que., on a nominal amount of sleep to liveblog at cisblog.ca, with help from Red Bull,

Andrew

,

Rob

,

Mike

and

Greg

and many, many others. Like a friend said on MSN, "you're not gonna ever forget that you went and the effort you made to get there."

More like never forget the Gaels' effort. They weren't perfect, yet the moment was. That is about a good a gift as you can get as a sports fan.

(Photo by Greg Black, Queen's University)

The final seconds vs. Laval:



And the Oil Thigh following the game-winning touchdown vs. Western.

Related:
Queen's wins the 2009 Vanier Cup (

Salt Water Music

)