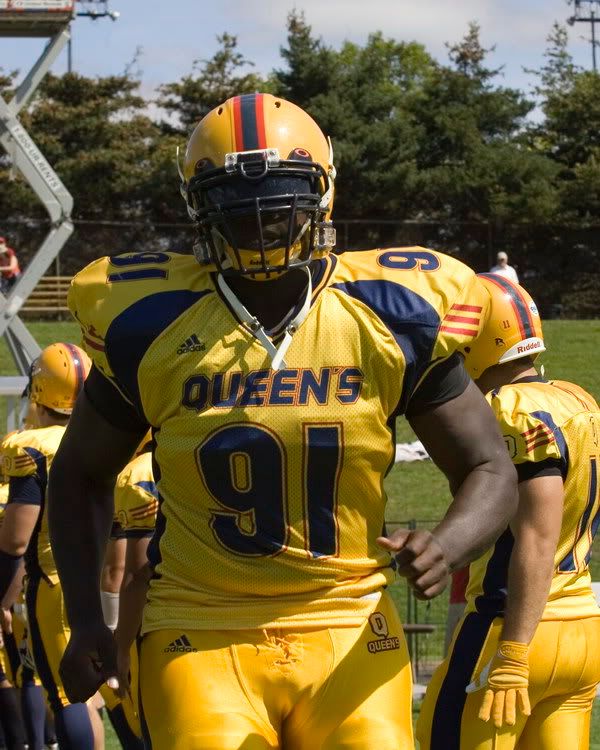 Queen's defensive coordinator
Pat Tracey
has no literal connection with
Dick Tomey
, at first glance.
Those coaches have everything to do with Saturday's Vanier Cup between Calgary and Queen's. The game pits an irresistible force vs. an immovable object. The Dinos'
Erik Glavic
-helmed offence, which had 426 rushing yards in the Uteck Bowl and 479 passing in the Hardy Cup seven days earlier, is facing a Queen's front seven led by future CFL D-linemen
Osie Ukwuoma
(right photo)
and
Shomari Williams
.
The game will test a theory that's been in the hopper as the season has wound down.
Always OUA
summed it up earlier this week as,
"Lines win championships."
Canadian football's rules (three downs, unlimited motion, 65-yard-wide fields) pretty much guarantee a good passing team will get theirs eventually. The game thus boils down to having a defensive front which plays the run well and gets sacks, and an offensive line which provides five layers of protection for the quarterback.
It's not for nothing Dick Tomey, who
announced his retirement
from San Jose State, was in the news in the midst of Queen's went on its playoff run. Tracey's defence is basically living by the same bedrock attributed to Tomey's
Arizona Wildcats teams in the 1990s
:
"... no team of his will be beaten by the run. You can pass for 1,000 yards against him, but don't try anything off tackle."
That sums up what Queen's has done to earn a date vs. the Dinos, who have the No. 1 rushing attack in CIS. Who knows whether that was a reason for taking
Queen's to beat Laval by a field goal last week
.
Queen's wideout

Blaise Morrison

told his hometown

Halifax Chronicle-Herald

, "The stats say (Calgary has) a great quarterback and a great running back, but I've got full confidence in our defence." Some would wonder how he can say that when Queen's has given up 934 passing yards the past two weeks. The fact is they do have a good defence, but they turn all those passing yards into empty calories.

Queen's has a good reputation for producing offensive players (such as Saskatchewan Roughriders receiver

Rob Bagg

). Teams with marquee skill position players are often seen as soft, and the past two post-seasons disabused no one of viewing the Gaels that way. Part of those teams' downfall was that although they were solid statistically vs. the run and pass, they couldn't get off the field against teams who played ball control, such as Ottawa in 2008 and Western in 2007.

The smart take from the strong, and Queen's has changed its approach. They still stuff the run but the results suggest they are more high-risk, high-reward with pass coverage. That might not be their intention when they drop nine players into coverage, but it has worked out that way. The Gaels were just 12th in the 27-team CIS in passing yards allowed. However, in keeping with one of our notes in the season preview, they almost doubled their interception totals, picking off 12 in regular season after making just seven in 2008.

In the Mitchell Bowl last week, Laval's Hec Crighton finalist quarterback

Benoit Groulx

put up numbers in the second half, which made for some nervous moments. However, the Rouge et Or, who were sixth in rushing in the regular season, netted only 51 along the ground. They called 25 consecutive pass plays (not counting a two-point conversion play) in the fourth quarter.

Western's

Michael Faulds

averaged 446.5 passing yards in his team's two losses to the Golden Gaels. However, Western averaged only 125.5 rushing, a far cry from the 208 they averaged across their other nine games. The Yates Cup turned somewhat on the Mustangs being unable to convert in short-yardage situations. They settled for three short field goals and also failed on a third-and-1 from midfield (granted, if Faulds' knee had allowed him to chance a QB sneak, maybe it is a different story).

In the season opener against Guelph (for

Rob Massey

's sake, insert obligatory reminder Queen's only won because of

Jimmy Allin

's three return TDs and pretend that for one day, special teams was not one-third of the game), the Gryphons'

Justin Dunk

passed for 433 yards. The Gaels limited the Gryphons to 22 rushes for 92 yards, a paltry 4.2 average, and won the game.

Whether Queen's can pull off something similar vs. Calgary remains to be seen. Erik Glavic

(left photo)

poses a unique challenge. Scramble EG is so big (6-foot-6) and quick. He can deliver a pass to a receiver while wearing a pass rusher like a feather boa. The Dinos boast a good running back,

Matt Walter

, and as Williams noted on Wednesday, they use a lot of motion in the running game, with jet sweep-style runs to talents such as

Anthony Parker

and

Nathan Coehoorn

.

Nevertheless, it is good coaching to have got this far. Coaching is tailoring your approach to your talent. It's a good system

for Queen's

. The Golden Gaels defence, with Ukwuoma and Williams wreaking havoc, puts a lot of teams in daunting second-and-long situations. They put their defensive backs on an island, but the secondary (three fifth-year defenders) is veteran enough to adopt the short memory of a hockey goalie. They can get beat and come back with a big pass breakup moments later.

Even if the other team drives for a quick score, it puts Queen's offence back on the field. They typically start in reasonable field position since Allin will either get a good return or the other team will play keep-away with a short kick. Their offensive line of left tackle

Matt O'Donnell

(who'll apparently be named all-Canadian), left guard

Vince De Civita

, centre

Dan Bederman

, right guard

Jon Koidis

and right tackle

Derek Morris

almost never allows the defence to get a hand on

Dan Brannagan

, who constantly makes observers marvel with how he's seemingly able to stand flat-footed in the pocket before passing. They also provide for some semblance of a running game.

All of this comes back what

Always OUA

noted:
"... against very successful running teams Queen's can run base packages and slow down the opposition's run game. This is exactly what McMaster coach

Stefan Ptaszek

alluded to when he discussed what set Queen's apart from the rest of the OUA in stopping the Marauders formidable rushing duo of

Joey Nemet

and

Jordan Kozina

- meaning they were the only team which did not need to design run blitzes to slow the two down. It means that every time Queen's had those four rush the passer this past Saturday the pocket collapsed on Laval pivot

Benoit Groulx

, it means that every down they can stop anything the opposition throws at them in terms of running the ball, or in terms of pass protection. This translates to the following: Lines Win Championships."
It very well could be a different story vs. the Dinos. Everyone is expecting a shootout, but the beauty of Canadian football is that even a 43-39, 39-38 or 33-30 game will have moments of dominant defence.

A lot of people are taking Calgary to win Saturday. Queen's has beaten the other two teams, Western and Laval, whose quarterbacks are up for the Hec. Calgary is No. 1 in rushing, but the Nos. 2-3 teams, McMaster and Ottawa, scored zero touchdowns in 12 quarters this season vs. the Golden Gaels (and Williams and linebacker

Alex Daprato

did not play in one of those games). Laurier, which had the fourth-ranked running game, couldn't run much on Queen's (4.5 per carry) when it beat the Golden Gaels in a nothing game at the end of the regular season. Laval, Guelph and Western were each in the top 10 in rushing. They were a combined 0-4 vs. the Gaels, although the total winning margin was only 11 points.

Queen's has been living on margins all season, but it has found a strategy to counter today's potent passing games. They also have one of their own with Brannagan, which is why they stand a decent chance of winning the national championship on Saturday.

Calgary might be the consensus choice, but there are no losers this late in the season.

(As an epilogue, Queen's success calling to mind Dick Tomey, who is unknown to anyone who's not a hard-core college football geek, is some serious six-degrees-of-separation). Tomey's Arizona teams often were pegged for big things but never quite got there, not unlike Queen's prior to this fall. The Wildcats are the only Pac-10 team which has never played in the Rose Bowl, but during Tomey's heyday they were once

Sports Illustrated

's preseason No. 1 pick.

That was in 1994, when Arizona's defence included

Tedy Bruschi

. You'll recall that a couple weeks ago the former New England linebacker, in his capacity for ESPN, ripped his former coach

Bill Belichick

for an ill-fated fourth-down call in a big game vs. Indianapolis Colts. In the small world of CIS football, Queen's coach

Pat Sheahan

was praised for successfully pulling a Belichick in the Mitchell Bowl. It even got his team a mention from ESPN. Now you know the rest of the story.)