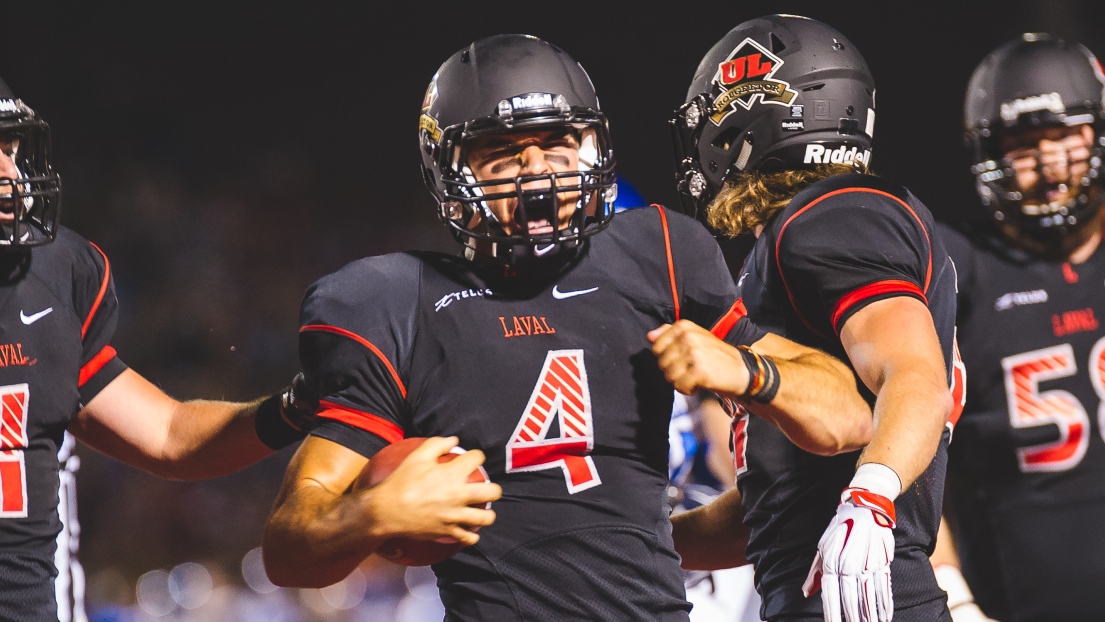 Laval QB Hugo Richard.
The greatest concern troll ever invented is projecting a "mental out" on to the teams in a championship showdown.
Deep down, or so the you-totally-are-parodying-Bill-Simmons-here-are-you-not notion holds, one team or athlete is already bargaining internally about being able to settle for second-best. As an over- simplification, it probably is great for resisting paralysis-by-analysis. The Dodgers were going to beat the Cubs in the National League playoffs since the Cubs were satisfied by getting their World Series championship in 2016. The Ottawa Redblacks and
Henry Burris
were impelled to win the 2016 Grey Cup due to an understanding it was their last chance, while the Calgary Stampeders side they supposedly upset were just obsessed with playing a perfect game.
Western and Laval is another matchup of usual suspects, although it is only the third time they have played in November and only the fourth time coaches
Greg Marshall
and
Glen Constantin
have matched brain trusts and behemoths. There is no mental out on either side. Western has not won the Vanier Cup in 23 years, and an entire conference that has spent the last decade increasingly being sluiced through the Mustang machinery is most vituperative on the subject of this drought: Where's the Vanier Cup? When are you going to get the Vanier Cup? Why aren't you getting the Vanier Cup now?" And so on. So, please, da Vanier Cup.
The Rouge et Or, of course, have the first-world problem of having no concept of second place. They have come away empty-handed at only one of these, against McMaster in Vancouver in 2011. That was an alien environment — 5,000 kilometres from home, CFL building, a crowd clearly eager to throw in with the Marauders. Yet it still took double overtime before Mac sealed it.
The best way to tee up any final in university sports, until such time that there's decisive action to take in to help the 99 per cent catch up to the Clobbersauruses (Carleton men's basketball, UNB men's hockey, et al.), is to simply look at what happened when Clobbersaurus has lost. In football, lines win championships and it says here that will probably have the most sway on Saturday. Does the Western offensive line — where all-Canadian tackle
David Brown
is the only senior alongside
Grégoire Bouchard
,
Dylan Giffen
,
Matt Bettencourt
and
Mark Wheatley
— handle the Laval force unit, with all-Canadian DI
Vincent Desjardins
and edge rushers extraordinaire
Mathieu Betts
and
Edward Godin
? On the other side of the ball, this iteration of Western is the first to allow 300 yards per game since 2010, when coincidentally they outplayed Laval
at Laval
in the Uteck Bowl only to get beaten by a nose (13-11 on two late field goals set up by Rouge et Or interceptions).
Other, better sources have the nuts-and-bolts circles-and-X's stuff covered.
— Morris Dalla Costa (@MoDaCoatLFPress) November 24, 2017
— Morris Dalla Costa (@MoDaCoatLFPress) November 24, 2017
— Krown Countdown U (@KrownCountdownU) November 23, 2017
One. More. Sleep. 👏 #Vanier53
🏈: @rougeetor v. @WesternMustangs
⌚️: 1 PM ET/13h HE
📍: @TimHortonsField
📺: @Sportsnet 360, @Sportsnet 1, @TVASports
💻: Sportsnet Now, TVASports.ca
📻: @AM900CHML pic.twitter.com/KGo2mXVjFh

— U SPORTS (@USPORTSca) November 25, 2017
On this end, it seems more informative and illustrative to look at the template created by Laval's rare season-ending losses
2015 Dunsmore Cup, 18-16 against Montréal
— The Carabins won the day by blocking a 19-yard field goal attempt on the last play. To be honest, as a Minnesota Vikings fan,
poring over the boxscore is triggering since the game was decided by field goal follies
. The reason that Laval was kicking for the win, instead of passing or rushing was that Montréal had two placements from inside of 40 yards go for singles.
So what did Montréal do that Western will have to replicate?
It built a two-touchdown lead halfway through the third quarter, forcing Laval to play catch-up. In
Sean Thomas Erlington and change-up back Gabriel Parent were able to get into the open field, combining for three rushes of at least 35 yards. Two came on consecutive plays; Thomas Erlington scooted for 38 and checked out for a blow, then Parent went to the house on the next play.

The running game is Western lifeblood and it can tag-team with multiple backs.
Les Bleus had three sacks on Laval QB Hugo Richard, but all of them came between the 40s and stopped drives.

Western's defensive line has earned its epaulets, but its 16 sacks in the regular season were eighth of 11 teams in OUA and the fewest among playoff teams.
2014 Dunsmore Cup, 12-9 (OT) against Montréal
— As one would anticipate with a field goal battle, there was very little statistical separation; it was pretty much a Quebecois take-off on that 9-6 Alabama-LSU game in 2011.
The Carabins pass defence held after Laval drove to the 16-yard line in the final 90 seconds, forcing the Rouge et Or to take a Boris Bede triple for a 9-9 tie. In the mini-game, Montréal promptly got behind the chains with a holding penalty but a 26-yard completion to
Phillip Enchill
was enough to set up a field goal. Laval got pushed back by a sack from
Byron Archambault
— the Carabins' fourth of the day — and a 47-yard attempt for the tie failed.
Those extra 10 yards between the 50s are a killer in Canadian football sometimes; the game had offence, just not points. But Cousineau was interception-free on his way to a 312-yard passing day. The Carabins defence picked Richard once, although it didn't lead to scoring.
The Mustangs' relationship with ball security has been strained by times; they were intercepted once per 24.7 attempts in OUA's regular season, which was ahead of only Toronto.
Chris Merchant
and backup
Kevin John
have not been intercepted during the playoffs, though, so huzzah for small samples and recency!
2011 Vanier Cup, 41-38 (OT) against McMaster (B.C. Place, Vancouver) —
Pro tip: go out and find a
Kyle Quinlan
of your own, or failing that, his non-union Mexican equivalent. The Marauders walked it off in the second overtime after skunking Laval with an interception before nestling the ball into range for
Tyler Crapigna
to slot through the sayonara kick.
How did McMaster pull it off?
They passed, like, really really well. Quinlan was hucking, chucking, for 482 yards. That didn't even include a 101-yard touchdown to wide receiver Michael DiCroce in the third quarter that was negated by a penalty. It didn't count and it did count, since McMaster's confidence was starting to fray.

I'm not big on time-of-possession — it's a by-product stat — but Mac controlled the clock (34 minutes, 22 seconds) and ran 90 plays to Laval's 57.

Very few teams have done that to Laval late in the season. Calgary had 399 passing yards in the 2016 Vanier (and a 553-481 edge in total offence), but a blocked punt and own-zone turnovers turned the tide.
They put Laval in a corner. McMaster led 23-0 at halftime as Quinlan, his blockers and the McMaster offensive coaches played Laval's front seven like advanced beginner band sheet music.

And yet, Laval made a 24-point run, helped by two return touchdowns. The teams traded touchdowns in the fourth quarter, and again during the first mini-game, before McMaster prevailed.
Pressure from here, there and everywhere. Laval QB Bruno Prud'homme had 35 dropbacks that night and five ended with him being dropped for a loss. The Mac sacks came from five different players, including one from Scott Martin, a rookie defensive back listed at 183 pounds. Two of the sacks came in the red zone and forced Laval to try field goals, cutting 14 potential points down to three.
2009 Mitchell Bowl, 33-30 at Queen's
— Gaels defensive coordinator
Pat Tracey
, as early as 2003, began poring over Laval game video on the premise the road to a national championship would go through the Rouge et Or. The residue of that design was eight sacks on Hec Crighton-winning QB
Benoit Groulx
, including 3½ by
Shomari Williams
and a strip-sack deep in the Laval zone in the final seconds.
The key elements:
Pressure, as already noted. The biggest of those eight sacks came with 3:10 left in the third quarter and Queen's up by six. With Williams occupying the left tackle and Laval tailback Sebastien Levesque minding the A-gap, Queen's outside 'backer Chris Smith was left completely unblocked and sacked Groulx.

Laval had a blown read on second and long that left Chris Milo with a 45-yard try on a muddy field. It went wide left, and Queen's cornerback Jimmy Allin returned it 120 yards for a touchdown to complete a 10-point swing.

On Laval's final two plays, Queen's defensive line drew a holding penalty that stanched Laval's momentum. On the next play, Queen's only needed a three-man rush to get to Groulx, with Frank Pankiewicz knocking the ball free for Osie Ukwuoma's win-sealing recovery.
Timely takeaways. The reason Queen's built a 20-point lead came through some special teams resourcefulness. Laval had some trickeration blow up real good after the Allin touchdown. A cross-field lateral to speedster Guillaume Rioux created a slew of space, but Rioux had the ball loose and Queen's Ben D'Andrea forced a fumble. Four plays later, Queen's scored.
Chunk yardage. The Gaels' Danny Brannagan was 17-of-33 for 286 yards with two touchdowns, which represented high-end production for a game on the third Saturday in November in a stadium by a lake. Working behind an offensive line that gave him lots of time, Brannagan was able to take downfield shots, including one to Mark Surya for a touchdown opened a 20-point early fourth-quarter lead that provided jussssst enough cushion.
To sum up, there is no set formula to beat Laval, but a fearsome four-man pass rush and some breaks in the third phase, the kicking/return games, seem to loom large. Offensively, just do what you do, on all eight cylinders.
Laval can be had. Saturday will show whether Western has it in them; we know they would not easily live down a loss.