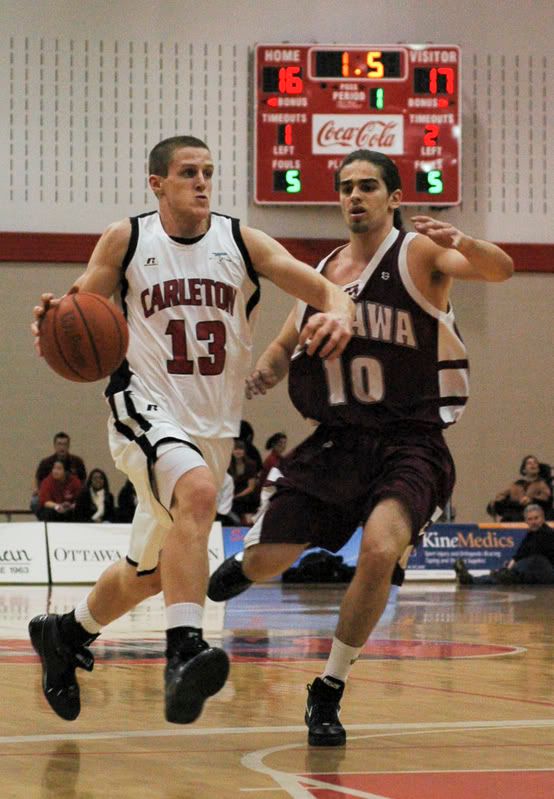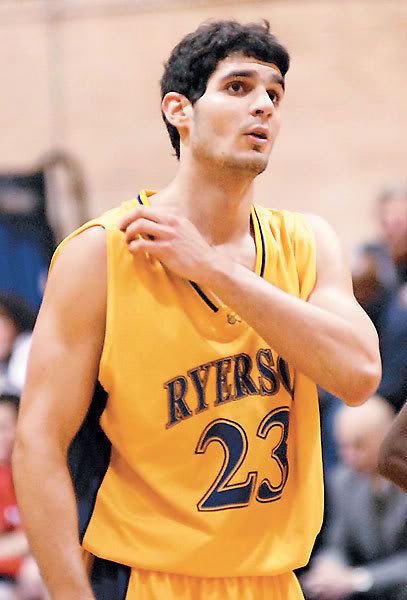 Carleton's tri-captain and fifth-year senior guard
Stu Turnbull
will be the OUA East candidate for the Mike Moser Trophy
, edging out Ryerson big man
Boris Bakovic
and Ottawa's
Josh Gibson-Bascombe
, who plays the same two-guard spot for Ottawa.
Turnbull was a good call if you go by the rule of thumb individual awards should be a byproduct of a team's accomplishment, which is a decent first principle to work from. The Kingston native is No. 1-ranked Carleton's leading scorer and outscored Gibson-Bascombe, 29-18 and 22-19, in the Ravens' season-series sweep of the Gee-Gees (heading into tonight's OUA East final). That's the end-of-story right there for many people. The statistical argument, going by the
game scores
which
Rob Pettapiece
compiled, provide at least a neat counter-point.
Bakovic had the highest game score in the country, 18.4. Gibson-Bascombe was second in the OUA and fifth in the CIS; Turnbull was 10th and 39th, respectively. Strictly for argument's sake, bearing in mind that as Rob notes, "Sophisticated metrics aren't really possible with the limited CIS stats we have available," here are the Top 10 players in the OUA by adjusted game score (national ranking in brackets, conference regular season only):
Bakovic, Ryerson, 18.4 (1st)
Gibson-Bascombe, Ottawa, 14.1 (5th)
Aaron Doornekamp, Carleton, 12.0 (14th)
Dax Dessureault, Ottawa, 11.4 (18th)
Greg Surmacz, Windsor, 11.1 (21st)
Keenan Jeppesen, Western, 10.9 (23rd)

Matas Tirilis, Laurentian, 10.1 (33rd)
Josh Wright, Ottawa, 10.0 (34th)
Tut Ruach, York, 9.6 (36th)
Turnbull, Carleton, 9.4 (39th)
People who have seen the Ravens play know how much Turnbull matters to them at each end of the floor. The Ottawa games were high-leverage and he came through in both cases (Rob adjusts based on team's RPI).
Stats are a way to make a sense of the game from the outside looking in. The godfather himself,
Bill James
once said
, "There are a lot of things that you just can't see from out here, folks. Dedication and leadership and desire and committment; I see glimpses of all that, but you just can't see those things clearly from the outside, and it's silly to pretend you can."
Those making the selections saw in Turnbull, a team leader who's put up solid numbers across the board (16.7 points and 5.1 boards). He's a guard who can score from inside and outside, play physical defence, bring the ball up the floor and help on the boards, where Carleton
almost doubled the next-best team
in rebounding margin.
It's a good argument, to say the least. Here's the OUA East awards:
MVP (and Moser Award finalist)
— Turnbull, Carleton.
Rookie of the year
— York guard
David Tyndale
(Mississauga). Averaged 15.1 points in his first season, pretty decent.
Top defender
— Carleton guard
Rob Saunders
(Kingston, Ont.). Not a bad day for him and Turnbull, who have played in the same backcourt since they each learned to bounce a basketball.
Ken Shields Award nominee
— Ottawa centre
Dax Dessureault
(Embrun, Ont.). It's the second major award in two years for big Dax, who was a somewhat contentious selection for defensive player of the year last season over then-Carleton guard
Ryan Bell
.
Coach of the year — Dave Smart
, Carleton.
First team
— Bakovic, F, Ryerson (Toronto, Ont.); Doornekamp, F, Carleton (Odessa, Ont.), Dessureault, C, Ottawa; Turnbull, G, Carleton (Kingston, Ont.); Gibson-Bascombe, G, Ottawa (Toronto).
Second team
—
Mitch Leger
, F, Queen's (Kingston);
Nick Magalas
, G, Toronto (Burlington),
Rob Paris
, G, Toronto (St. Catharines);
Tut Ruach
, G, York (Mississauga);
Matas Tirilis
, F, Laurentian (Mississauga).
Rookie team — Tyndale, G, York;
John Lafontaine
, G, York (Whitby, Ont.),
Josh Budd
, G, Ryerson; Timmins, Ont.);
Kyle Smendziuk
, F, Carleton (Kanata, Ont.);
Warren Ward
, G, Ottawa (Brampton).
Big Man on Campus
has a confirmed list of OUA West award winners. That was covered off here previously, so just to add to that, here is the rookie team:
Travis Berry
, G, Laurier;
Greg Carter
, G, Lakehead (Ottawa);
Scott Laws
, G, McMaster;
Didi Mukendi
, G, Brock;
Joel Whitty
, G, Brock,
Yoosrie Salhia
, F, Lakehead.