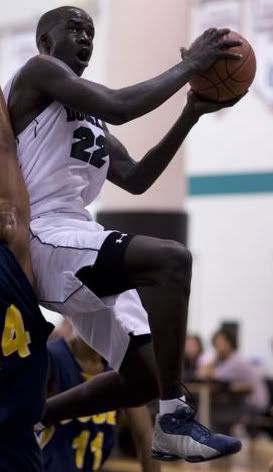 There's a little news about
Bol Kong
.
Kong, just for anyone needing a refresher, is a guard from Vancouver who was supposed to go to a big-time basketball school, Gonzaga, two years ago but, as a citizen of Sudan, was kept out due to visa issues. However, Kong is among 19 college-age and slightly older players whom Canada Basketball has
invited
to a development camp which begins Monday in Toronto. It wouldn't figure that Canada Basketball would invite someone unless he had received citizenship or was very close to doing so, right? SB Nation's Gonzaga blog,
The Slipper Still Fits
, jumped to that conclusion, so might as well join 'em there.
"If Bol is a Canadian citizen, he can clearly enter the United States of America. Therefore, if Bol can enter the United States of America, he can play basketball for Gonzaga University (look at my Gonzaga education at work).

"This certainly goes along with what we had been hearing, which was that everything was looking good for Bol, and I wouldn't be overly surprised to see him here in late June for the second session of summer school. What I do know is this is the most definitive news I have seen publicly on the status of Bol, and I think we can start preparing to finally see Bol in a Gonzaga uniform, after over a year of speculation."
It's of interest to this site snce there was
strong speculation
about six weeks ago Kong might play at Trinity Western University if it didn't work out with Gonzaga.
Anyway, calls and e-mails are in to Canada Basketball in hope of getting some confirmation.
(Cross-posted to
Out of Left Field
.)
Related:
Here Comes Kong!!!
(
The Slipper Still Fits
)